Become a commercial recycling partner get paid to recycle plastic with the NexTrex industrial recycling incentives
2023-12-05 commercial recycling program, get paid to recycle plastic, recycling incentives, commercial
Educate Yourself
Acceptable Items
Recycling Poster
FAQs
Commercial Recycling
What We Are Looking For
Recycling Guidelines
Recycling Challenge
Register
Grassroots Movement
NexTrex Label
Grassroots Movement
NexTrex Label
U.S. Drop Off Locations
Contact Us
Contact Us
Videos
COMMERCIAL RECYCLING PARTNERSHIPS
Make some green by going green. Everyone knows that recycling is good for the planet. But if youre a commercial business that produces large amounts of plastic film, it can be good for your wallet too. Because we depend on your recyclable plastic to make our products, well pay top dollar to take it off your hands. Here youll find information on what we need, how we can get it and what well give you in return.
SPECIAL ANNOUNCEMENT March 15, 2021
TREX&reg MAKES IT EASY TO BE GREEN WITH NEW NEXTREX INCENTIVES
WINCHESTER, Va. (March 15, 2021)- With one billion pounds of recycled post-consumer plastic collected and counting, Trex Companys NexTrex retail recycling program presents suppliers with an opportunity to be part of one of the largest plastic recycling initiatives in North America. To recognize existing partners for their commitment to sustainability and encourage others to get involved, Trex&reg has launched a new supplier incentive program that will reward partners with more than just good karma points for promoting and collecting post-consumer plastic film for recycling with NexTrex&reg.
VIDEO Plastic Film Recycling at the Distribution Center with NexTrex
VIDEO Plastic Film at the Store gets New Life with the NexTrex Recycling Program
What we're looking for
HDPE (#2) High Density Polyethylene
LDPE (#4) Low Density Polyethylene
LLDPE (#4) Linear Low Density Polyethylene
Trex&reg Commercial Recycling Guidelines:
Description: #2 and #4 polyethylene films (clear, color, or print) Sources: Distribution, industrial and store collections General: Good faith effort to reduce any contaminants and moisture Distribution/Industrial Guidelines: Stretch film Shrink wrap Pallet wrap Polyethylene bags Store Collection Guidelines: Grocery bags - Stretch film and pallet wrap - Plastic mailer bags - Case overwrap - Bread bags - Paper towel/toilet tissue overwrap - Bubble wrap - Air pillows - Dry cleaning bags - Cereal box liners - Produce bags - Newspaper sleeves - Furniture foam wrap - Ziploc or food storage bags - Salt bags - Pellet bags - Ice bags - Mattress bags Common contaminates to be cautious of:
Baling Guidelines:
Truckload or Less Than Truckload Shipments:
Baling and transportation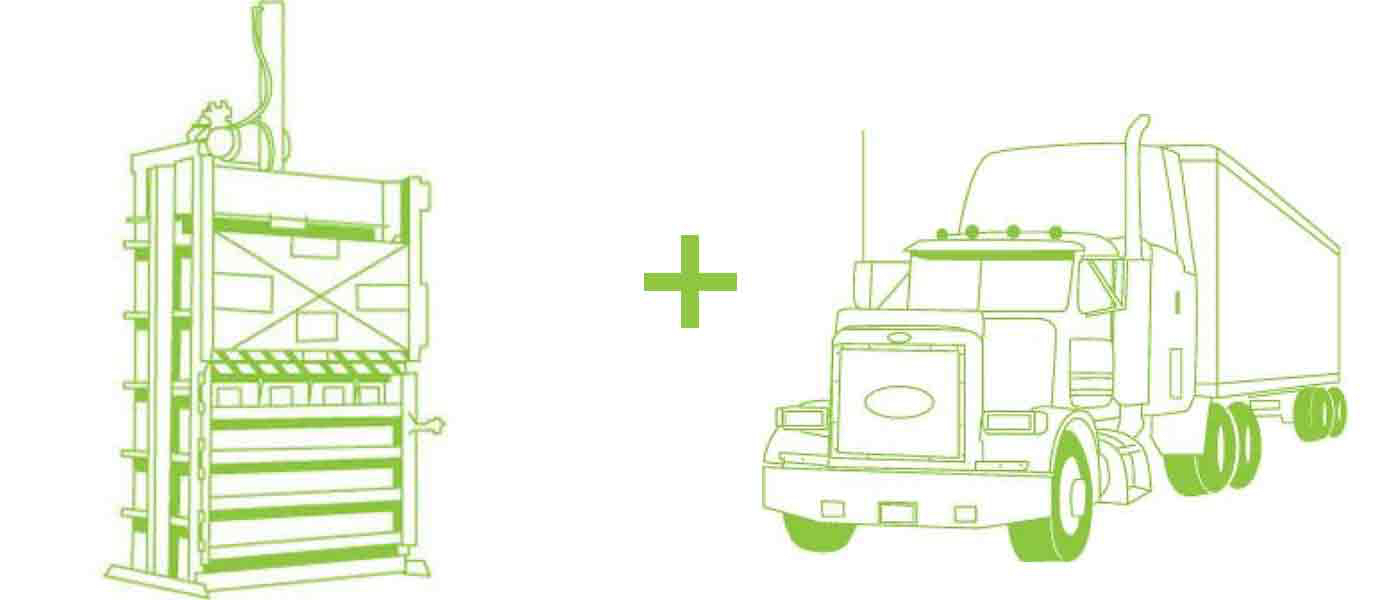 With decades of experience and a dedicated team of representatives at your service, Trex&reg will do whatever it takes to make recycling your companys plastic film as easy as possible.
If you don't generate enough for Trex Commercial Recycling, please take a look at our Grassroots Movement.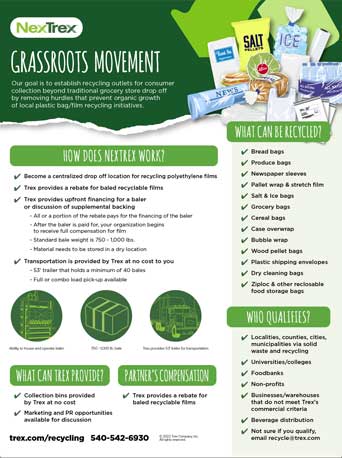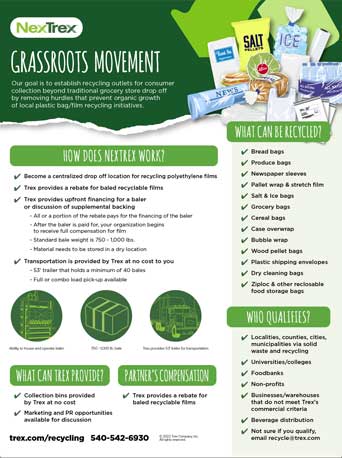 Grassroots Movement
HAVE A QUESTION ABOUT COMMERCIAL RECYCLING PARTNERSHIPS?
CONTACT US
LOOKING TO RECYCLE WITH US ON A LESS INDUSTRIAL SCALE? Find out how you can pitch in with our Recycling Challenge Program.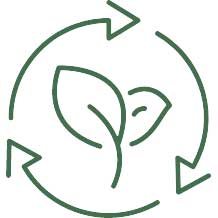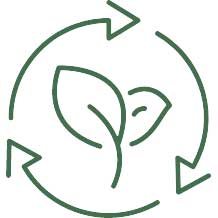 NEXTREX RECYCLING CHALLENGE PROGRAM