Take the Trex Plastic Bag Recycling Challenge and help the environment and your community! You could win a high-performance composite bench!
2023-01-29 composite bench, community recycling programs, trex plastic bag recycling challenge, programs
Grassroots Movement
Acceptable Items
What We Are Looking For
Recycling Challenges
U.S. Drop Off Locations
Contact Us
Recycling Poster
Recycling Guidelines
FAQs
Register
Educate Yourself
Commercial Recycling
Recycling Programs
Grassroots Movement
Contact Us
Videos
RECYCLING PROGRAMS
"Trex&reg was founded on the premise that ingenuity can help extract value from what was once seen as waste. In creating this turnkey program for schools, we provide students with a better understanding and appreciation for the importance of recycling by demonstrating how small, everyday efforts can translate into a tangible product and successful business." Bryan Fairbanks, President and CEO of Trex&reg
SPECIAL ANNOUNCEMENT November 15, 2022
RECYCLE BAGS TO WIN BIG: TREX PLASTIC FILM SCHOOL RECYCLING CHALLENGE BEGINS TODAY
WINCHESTER, Va., (November 15, 2022) Today marks the official start of the 16th Annual Trex Plastic Film Recycling Challenge. Strategically timed to coincide with America Recycles Day (Nov. 15), the nationwide competition, hosted by Trex Company, the worlds largest manufacturer of composite decking and railing, challenges K-12 students from across the country to collect and recycle as much polyethylene (PE) plastic film as possible over a five-month period between America Recycles Day and Earth Day (April 22) for the chance to win cash prizes and high-performance Trex outdoor living products for their schools. Those interested in participating in the 2022-23 program may enroll online at NexTrex.com.
Drop off your plastic waste at one of these participating locations.
U.S. DROP OFF LOCATIONS
Enter your weights here. Remember, you only log one total for each month.
CLICK HERE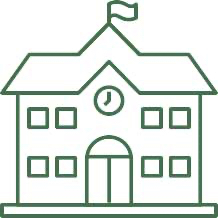 THE PLASTIC FILM RECYCLING CHALLENGE
Every year hundreds of schools across the nation compete against each other to recycle the most plastic film. In addition to providing a better understanding and appreciation for the importance of recycling, Trex&reg will happily donate a high-performance composite bench to the winning school, and bestow honorary awards to every school that participates.
School Program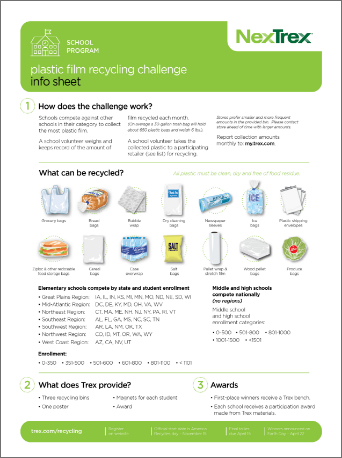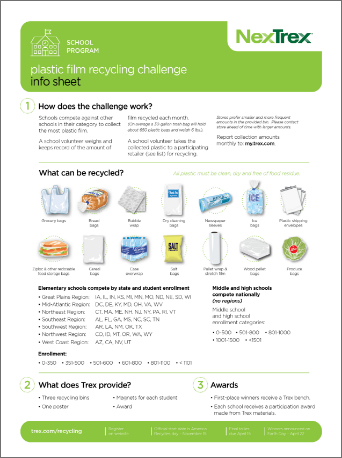 DOWNLOAD
Register for the plastic recycling challenge Below


Looking for a community or university program?
CLICK HERE
Visit the Recycle2Win Challenge Leaderboard Page.
CLICK HERE
VIDEO SCHOOL AND COMMUNITY RECYCLING PROGRAMS GIVE PLASTIC FILM NEW LIFE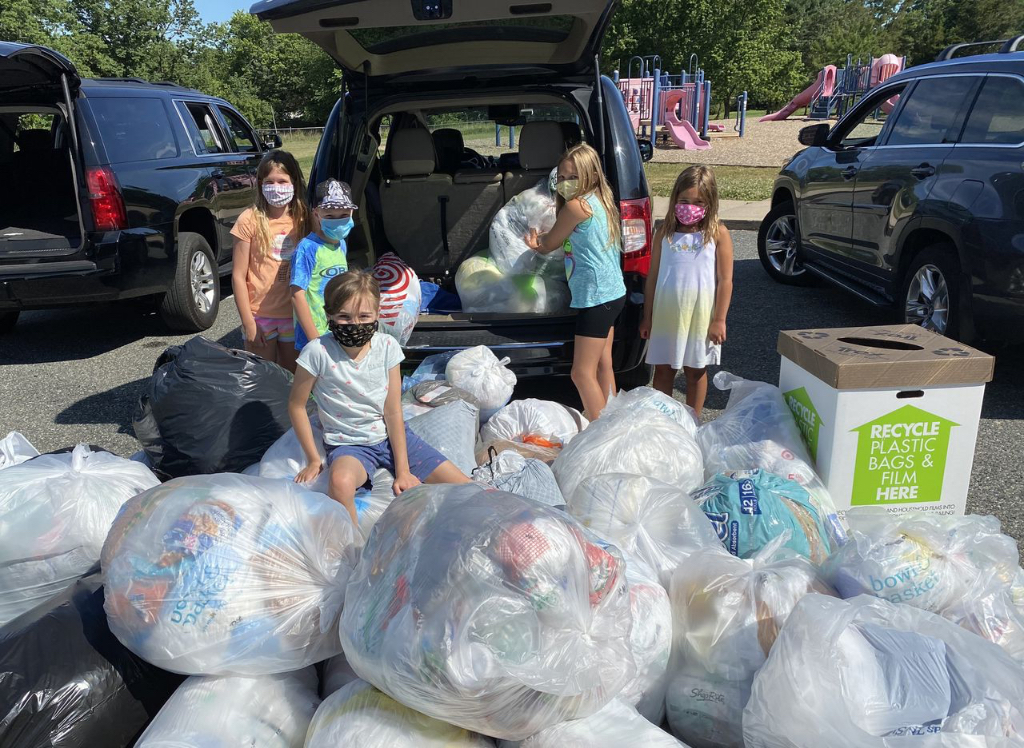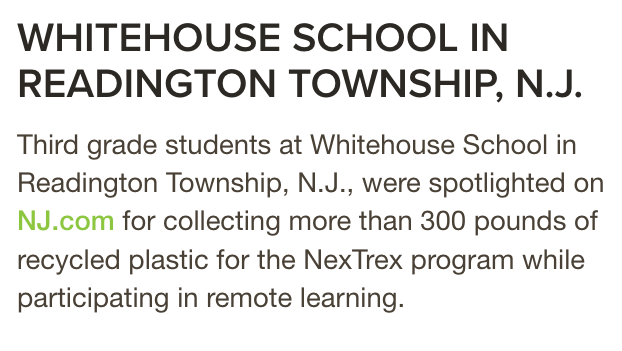 "After more than a decade, the Trex&reg Plastic Film Recycling Challenge continues to educate and inspire young people by providing a program in which students can play an active role in preserving the environment and making a difference." Stephanie Hicks, Materials Sourcing Manager for Trex&reg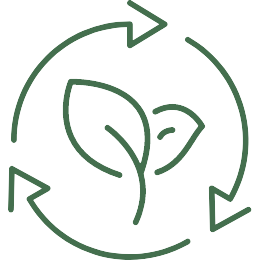 COMMUNITY & UNIVERSITY CHALLENGE Programs
Trex&reg is proud to sponsor local recycling programs in universities and communities throughout the country. If your team can collect more than 500 pounds of plastic refuse in a six-month span (about 40,500 plastic bags), we will donate a high-performance composite bench to your school or community.
Community Program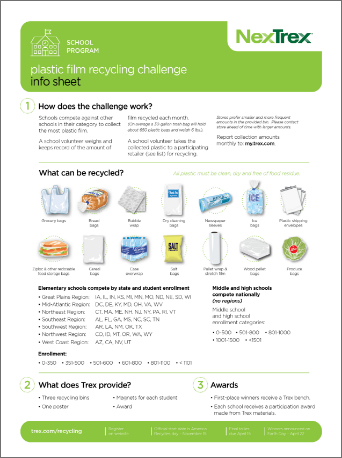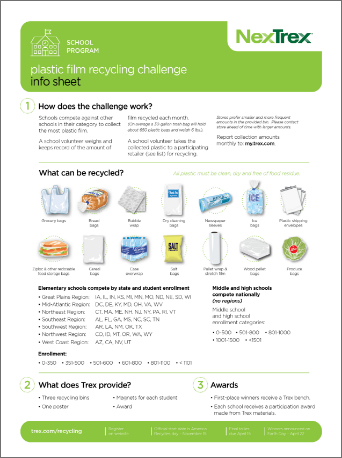 DOWNLOAD
Register for the plastic recycling challenge Below


If you generate more plastic recycling than appropriate for grocery store drop off, please take a look at our Grassroots Movement.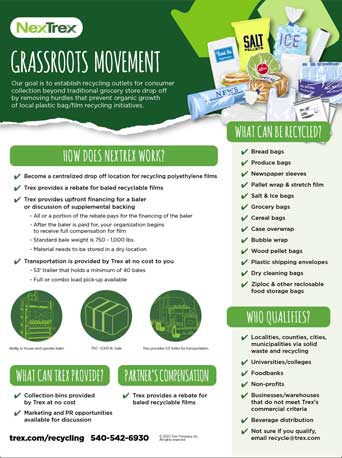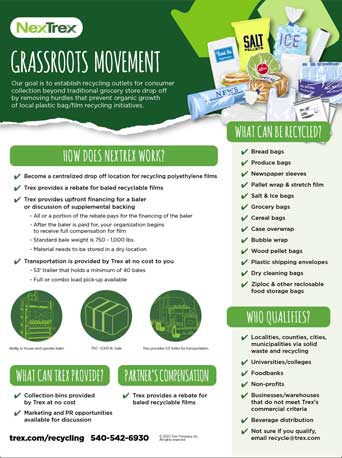 DOWNLOAD
CONTACT Contact us for more information. NexTrex@trex.com; 540-542-6930