Take the Trex Plastic Bag Recycling Challenge and help the environment and your community! You could win a high-performance composite bench!
2023-12-05 composite bench, community recycling programs, trex plastic bag recycling challenge, programs
Educate Yourself
Acceptable Items
Recycling Poster
FAQs
Commercial Recycling
What We Are Looking For
Recycling Guidelines
Recycling Challenge
Register
Grassroots Movement
NexTrex Label
Grassroots Movement
NexTrex Label
U.S. Drop Off Locations
Contact Us
Contact Us
Videos
NEXTREX RECYCLING CHALLENGE
At Trex, sustainability is not just a buzzword its a founding principle of our company and part of our DNA. For more than three decades, we have continued to derive value from discarded materials, diverting waste from landfills and waterways. Our composite decking is made from 95% recycled materials, so recycling plays a considerable role in our day-to-day operations." Bryan Fairbanks, President and CEO of Trex&reg Company
SPECIAL ANNOUNCEMENT August 29, 2023
TREX COMPANY LAUNCHES NEW COMMUNITY RECYCLING CHALLENGE
WINCHESTER, Va. (August 29, 2023) Trex Company [NYSE: TREX] is making it even easier to be green. The worlds #1 brand of wood-alternative decking and railing, and leader in high-performance, low-maintenance, eco-friendly outdoor living products, has revamped its popular NexTrex Plastic Film Recycling Challenge with a more streamlined structure that simplifies the process and makes the program accessible to a broader range of participants.
Drop off your plastic waste at one of these participating locations.
U.S. DROP OFF LOCATIONS
Enter your weights and upload photos here.
CLICK HERE
With the NexTrex program, you not only know exactly where your recycled plastic film is going but also how it will be used. Together with our commercial and community partners across the country, we are able to divert plastic waste from ending up in landfills and give it new life as beautiful and sustainable Trex decking." Emily Whitacre, Recycling Programs Coordinator Trex&reg Company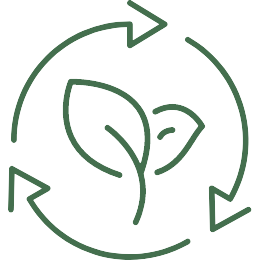 NEXTREX RECYCLING CHALLENGE PROGRAM
Trex&reg is proud to sponsor local recycling programs in communities throughout the country. For example, for K-12 schools, civic organizations, houses of worship and university organizations etc. If your team can collect more than 1,000 pounds of soft film plastics and packaging in a 12-month span, we will award a Trex&reg furniture bench to your organization.
Recycling Challenge
DOWNLOAD
Register for the plastic recycling challenge Below


If you generate more plastic recycling than appropriate for grocery store drop off, please take a look at our Grassroots Movement.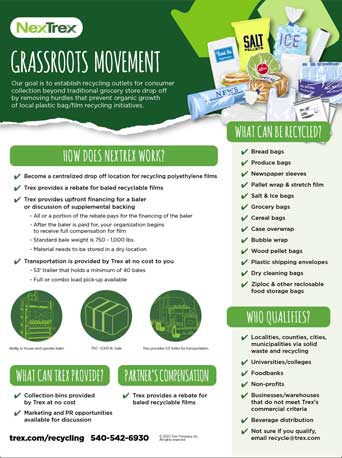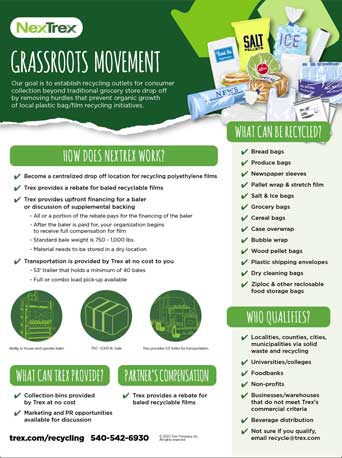 DOWNLOAD
CONTACT Contact us for more information. NexTrex@trex.com; 540-542-6930